Amarnath Yatra Holy Pilgrimage
---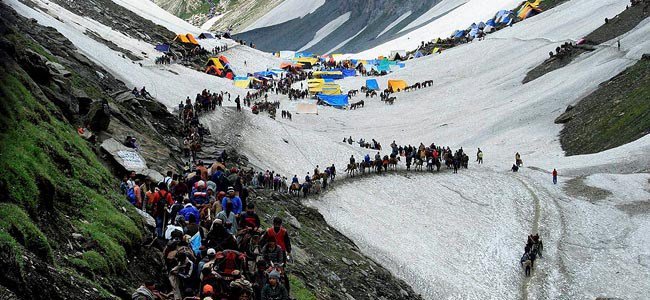 The of the most important event during July/ August, is Amarnath Yatra to the Holy Pilgrimage. This is an annual event when thousands of Hindus from different corners of the Globe visit Amarnath caves. The pilgrims trek from Pahalgam to these caves and worship the great ice Lingam. Legend has it that Shiva recounted to Parvati the secret of creation in a cave in Amarnath. Unknow to them, a pair of mating doves eavesdropped on this conversation and having learned the secret, are reborn again and again, and have made the cave their eternal abode. Many pilgrims report seeing the doves-pair when they trek the arduous route to pay obeisance before the ice-lingam (the phallic symbol of Shiva). This is an event you certainly will talk about for the rest of your life.
June to August is time for the annual Amarnath Yatra — one of the most sacred and popular pilgrimages to the holy snow-clad cave shrine of Lord Shiva in the beautiful northern Indian state of Jammu & Kashmir. Of all Hindu pilgrimages, Amarnath — situated at an altitude of 3,880 meters in the southern Kashmir Himalayas — is considered one of the holiest.
The pilgrimage starts in June-July and draws thousands of pilgrims to the naturally-formed ice Shiva Lingam at the holy cave shrine. The "yatra" or pilgrimage concludes in August, around the Raksha Bandhan festival.
This popular pilgrim is visited by not less than 4 lakh people every year; they come during the festival of Shravani Mela which is held during the months July – August. The journey of Amarnath takes about four – five days, there are two routes to reach there it is 42 kms from the town of Pahalgam and about 96 kms from Srinagar. One can choose from either depending on choice. Since it is quite a long journey people use horse back to make it to the temple. Now days the most convenient and easy way to reach Amarnath Temple is by a chopper.
Send Enquiry for
Amarnath Yatra
---